April 15, 2017

Chris Dow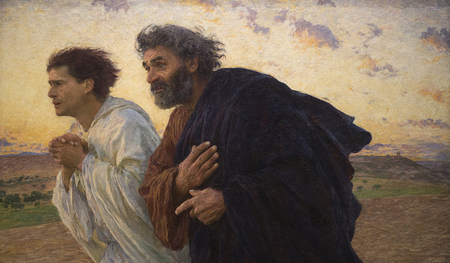 The anthems, collect, readings and paschal greeting for Easter Day, 16 April A.D. 2017.
Easter Anthems
CHRIST our passover is sacrificed for us: therefore let us keep the feast;
Not with the old leaven, nor with the leaven of malice and wickedness; / but with the unleavened bread of sincerity and truth.
1 Corinthians 5. 7.
Christ being raised from the dead dieth no more; / death hath no more dominion over him.
For in that he died, he died unto sin once: but in that he liveth, he liveth unto God.
Likewise reckon ye also yourselves to be dead indeed unto sin, / but alive unto God, through Jesus Christ our Lord.
Romans 6. 9.
Christ is risen from the dead, / and become the first-fruits of them that slept.
For since by man came death, / by man came also the resurrection of the dead.
For as in Adam all die, / even so in Christ shall all be made alive.
1 Corinthians 15. 20.
GLORY be to the Father, and to the Son, / and to the Holy Ghost;
As it was in the beginning, is now, and ever shall be, / world without end. Amen.
The Collect
ALMIGHTY God, who through thine only begotten Son Jesus Christ hast overcome death, and opened unto us the gate of everlasting life: We humbly beseech thee, that as by thy special grace thou dost put into our minds good desires, so by thy continual help we may bring the same to good effect; through Jesus Christ our Lord, who liveth and reigneth with thee and the Holy Spirit, ever one God, world without end. Amen. (BCP, p. 182-84)
Epistle: Colossians 3:1-11 (ESV)
If then you have been raised with Christ, seek the things that are above, where Christ is, seated at the right hand of God. Set your minds on things that are above, not on things that are on earth. For you have died, and your life is hidden with Christ in God. When Christ who is your life appears, then you also will appear with him in glory.
Put to death therefore what is earthly in you: sexual immorality, impurity, passion, evil desire, and covetousness, which is idolatry. On account of these the wrath of God is coming. In these you too once walked, when you were living in them. But now you must put them all away: anger, wrath, malice, slander, and obscene talk from your mouth. Do not lie to one another, seeing that you have put off the old self with its practices and have put on the new self, which is being renewed in knowledge after the image of its creator. Here there is not Greek and Jew, circumcised and uncircumcised, barbarian, Scythian, slave, free; but Christ is all, and in all.
Gospel: John 20:1-10 (ESV)
Now on the first day of the week Mary Magdalene came to the tomb early, while it was still dark, and saw that the stone had been taken away from the tomb. So she ran and went to Simon Peter and the other disciple, the one whom Jesus loved, and said to them, "They have taken the Lord out of the tomb, and we do not know where they have laid him." So Peter went out with the other disciple, and they were going toward the tomb. Both of them were running together, but the other disciple outran Peter and reached the tomb first. And stooping to look in, he saw the linen cloths lying there, but he did not go in. Then Simon Peter came, following him, and went into the tomb. He saw the linen cloths lying there, and the face cloth, which had been on Jesus' head, not lying with the linen cloths but folded up in a place by itself. Then the other disciple, who had reached the tomb first, also went in, and he saw and believed; for as yet they did not understand the Scripture, that he must rise from the dead. Then the disciples went back to their homes.
Daily Office readings
Paschal Greeting
Alleluia! Christ is risen! / He is risen indeed! Alleluia! (Cree)
Alleluia! Christ waniskaw! / Tapwē waniskaw! Alleluia! (English)
For other all other world languages, see here.
Artwork: Eugène Burnand, 'The disciples Peter and John running to the tomb on the morning of the Resurrection' (1889).