The Eighteenth Sunday after Trinity
The Eighteenth Sunday after Trinity
October 12, 2017

Chris Dow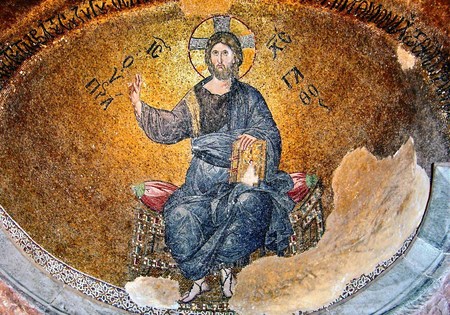 The collect and readings - as well as the Bishop's sermon, video and other resources - for the Eighteenth Sunday after Trinity (15 October A.D. 2017).
The Collect
LORD, we beseech thee, grant thy people grace to withstand the temptations of the world, the flesh, and the devil, and with pure hearts and minds to follow thee the only God; through Jesus Christ our Lord. Amen. (BCP, p. 247)
Epistle - 1 Corinthians 1:4-8
I give thanks to my God always for you because of the grace of God that was given you in Christ Jesus, that in every way you were enriched in him in all speech and all knowledge—even as the testimony about Christ was confirmed among you—so that you are not lacking in any gift, as you wait for the revealing of our Lord Jesus Christ, who will sustain you to the end, guiltless in the day of our Lord Jesus Christ. (ESV)
Psalm 122:6-9
O pray for the peace of Jerusalem: / may they prosper that love thee.
Peace be within thy walls, / and plenteousness within thy palaces.
For my brethren and companions' sakes, / I will wish thee prosperity. Alleluia! Alleluia!
Yea, because of the house of the LORD our God, / I will seek to do thee good. Alleluia!
Gospel -

Mark 12:28-37

And one of the scribes came up and heard them disputing with one another, and seeing that [Jesus] answered them well, asked him, "Which commandment is the most important of all?" Jesus answered, "The most important is, 'Hear, O Israel: The Lord our God, the Lord is one. And you shall love the Lord your God with all your heart and with all your soul and with all your mind and with all your strength.' The second is this: 'You shall love your neighbor as yourself.' There is no other commandment greater than these." And the scribe said to him, "You are right, Teacher. You have truly said that he is one, and there is no other besides him. And to love him with all the heart and with all the understanding and with all the strength, and to love one's neighbor as oneself, is much more than all whole burnt offerings and sacrifices." And when Jesus saw that he answered wisely, he said to him, "You are not far from the kingdom of God." And after that no one dared to ask him any more questions.

And as Jesus taught in the temple, he said, "How can the scribes say that the Christ is the son of David? David himself, in the Holy Spirit, declared,

"'The Lord said to my Lord,
"Sit at my right hand,
until I put your enemies under your feet."'

David himself calls him Lord. So how is he his son?" And the great throng heard him gladly. (ESV)
Resources:
Morning Prayer & Evening Prayer Readings:
Artwork: Mosaic of Christ Pantocrator, Church of Theotokos Pammakaristos, Istanbul.
Scripture quotations are from the ESV® Bible (The Holy Bible, English Standard Version®), copyright © 2001 by Crossway, a publishing ministry of Good News Publishers. Used by permission. All rights reserved.
Available Files to Download
To download, right-click the file and select "Save link as".