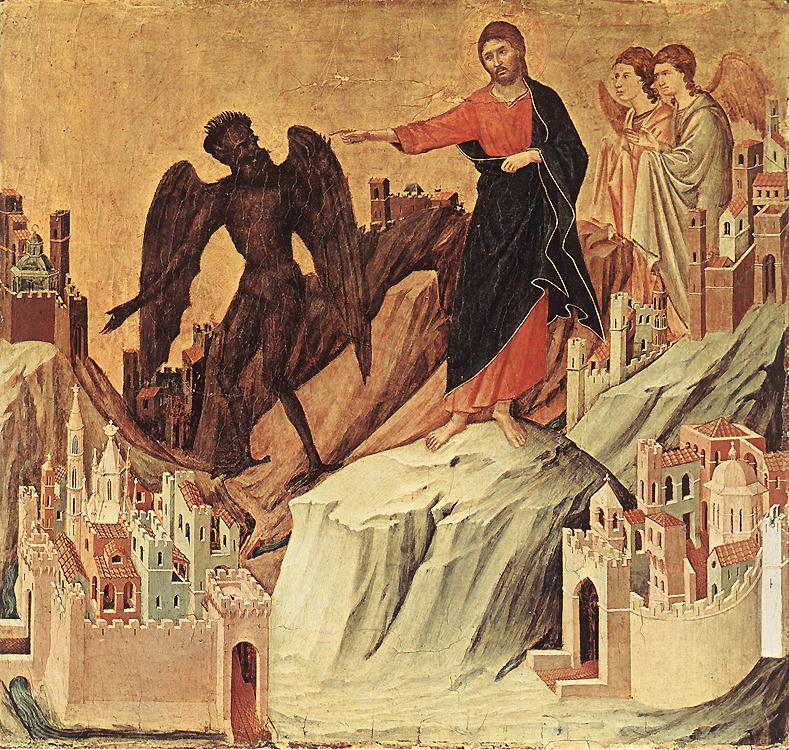 The collects and readings - as well as the Bishop's sermon, video and other resources - for the First Sunday in Lent (18 February A.D. 2018).
The Collect for Lent I
O LORD, who for our sake didst fast forty days and forty nights: Give us grace to use such abstinence, that, our flesh being subdued to the Spirit, we may ever obey thy godly motions in righteousness and true holiness, to thy honour and glory; who livest and reignest with the Father and the Holy Spirit, one God, world without end. Amen.
The Collect for Ash Wednesday
Almighty and everlasting God, who hatest nothing that thou hast made, and dost forgive the sins of all them that are penitent: Create and make in us new and contrite hearts, that we worthily lamenting our sins, and acknowledging our wretchedness, may obtain of thee, the God of all mercy, perfect remission and forgiveness; through Jesus Christ our Lord. Amen.
James 4:6–11
But [God] gives more grace. Therefore it says, "God opposes the proud but gives grace to the humble." Submit yourselves therefore to God. Resist the devil, and he will flee from you. Draw near to God, and he will draw near to you. Cleanse your hands, you sinners, and purify your hearts, you double-minded. Be wretched and mourn and weep. Let your laughter be turned to mourning and your joy to gloom. Humble yourselves before the Lord, and he will exalt you. Do not speak evil against one another, brothers.(ESV)
Psalm 91:9-16
Because thou hast said, 'The LORD is my refuge', / and hast made the Most High thy habitation,
There shall no evil happen unto thee, / neither shall any plague come nigh thy dwelling.
For he shall give his angels charge over thee, / to keep thee in all thy ways.
They shall bear thee in their hands, / that thou hurt not thy foot against a stone.
Thou shalt tread upon the lion and adder: / the young lion and the dragon shalt thou trample under thy feet.
Because he hath set his love upon me, therefore will I deliver him; / I will set him up, because he hath known my Name.
He shall call upon me, and I will hear him: / yea, I am with him in trouble; I will deliver him, and bring him to honour.
With long life will I satisfy him, / and show him my salvation.
Matthew 4:1–11
Then Jesus was led up by the Spirit into the wilderness to be tempted by the devil. And after fasting forty days and forty nights, he was hungry. And the tempter came and said to him, "If you are the Son of God, command these stones to become loaves of bread." But he answered, "It is written, "'Man shall not live by bread alone, but by every word that comes from the mouth of God.'"

Then the devil took him to the holy city and set him on the pinnacle of the temple and said to him, "If you are the Son of God, throw yourself down, for it is written, "'He will command his angels concerning you,' and "'On their hands they will bear you up, lest you strike your foot against a stone.'" Jesus said to him, "Again it is written, 'You shall not put the Lord your God to the test.'"
Again, the devil took him to a very high mountain and showed him all the kingdoms of the world and their glory. And he said to him, "All these I will give you, if you will fall down and worship me." Then Jesus said to him, "Be gone, Satan! For it is written, "'You shall worship the Lord your God
and him only shall you serve.'"
Then the devil left him, and behold, angels came and were ministering to him. (ESV)
Resources:
Bishop's sermon for Lent I (see below)
Morning Prayer & Evening Prayer Readings:
Artwork: Duccio di Buoninsegna, 'The Temptation of Christ on the Mountain,' A.D. 1308-11. Tempera on poplar panel. The Frick Collection.
Scripture quotations are from the ESV® Bible (The Holy Bible, English Standard Version®), copyright © 2001 by Crossway, a publishing ministry of Good News Publishers. Used by permission. All rights reserved.