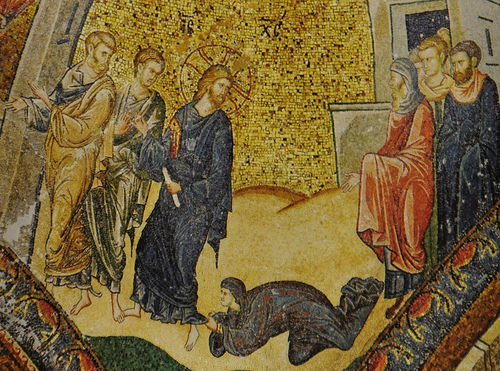 The collect and readings - as well as the Bishop's sermon and other resources - for the Second Sunday in Lent (25 February A.D. 2018).
The Collect
Almighty God, who seest that we have no power of ourselves to help ourselves: Keep us both outwardly in our bodies, and inwardly in our souls; that we may be defended from all adversities which may happen to the body, and from all evil thoughts which may assault and hurt the soul; through Jesus Christ our Lord. Amen.
1 Thessalonians 4:1–7
Finally, then, brothers, we ask and urge you in the Lord Jesus, that as you received from us how you ought to walk and to please God, just as you are doing, that you do so more and more. For you know what instructions we gave you through the Lord Jesus. For this is the will of God, your sanctification: that you abstain from sexual immorality; that each one of you know how to control his own body in holiness and honor, not in the passion of lust like the Gentiles who do not know God; that no one transgress and wrong his brother in this matter, because the Lord is an avenger in all these things, as we told you beforehand and solemnly warned you. For God has not called us for impurity, but in holiness. (ESV)
Psalm 123
Unto thee lift I up mine eyes, / O thou that dwellest in the heavens.
Behold, even as the eyes of servants look unto the hand of their masters, / and as the eyes of a maiden unto the hand of her mistress,
Even so our eyes wait upon the LORD our God, / until he have mercy upon us.
Have mercy upon us, O LORD, have mercy upon us; / for we are utterly despised.
Our soul is filled with the scornful reproof of the wealthy, / and with the despitefulness of the proud.
Matthew 15:21–28
And Jesus went away from there and withdrew to the district of Tyre and Sidon. And behold, a Canaanite woman from that region came out and was crying, "Have mercy on me, O Lord, Son of David; my daughter is severely oppressed by a demon." But he did not answer her a word. And his disciples came and begged him, saying, "Send her away, for she is crying out after us." He answered, "I was sent only to the lost sheep of the house of Israel." But she came and knelt before him, saying, "Lord, help me." And he answered, "It is not right to take the children's bread and throw it to the dogs." She said, "Yes, Lord, yet even the dogs eat the crumbs that fall from their masters' table." Then Jesus answered her, "O woman, great is your faith! Be it done for you as you desire." And her daughter was healed instantly. (ESV)
Resources:
Bishop's sermon for Lent II (see below)
Morning Prayer & Evening Prayer Readings:
Scripture quotations are from the ESV® Bible (The Holy Bible, English Standard Version®), copyright © 2001 by Crossway, a publishing ministry of Good News Publishers. Used by permission. All rights reserved.