The Seventh Sunday after Trinity
The Seventh Sunday after Trinity
July 27, 2017

Chris Dow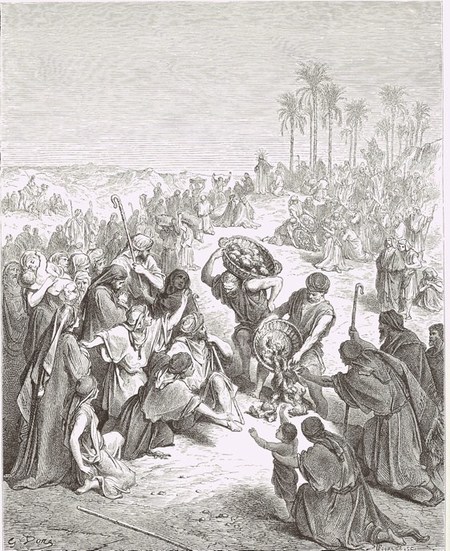 The collect and readings - as well as the Bishop's sermon, video and other resources - for the Seventh Sunday after Trinity (30 July A.D. 2017).
The Collect
LORD of all power and might, who art the author and giver of all good things: Graft in our hearts the love of thy Name, increase in us true religion, nourish us with all goodness, and of thy great mercy keep us in the same; through Jesus Christ our Lord. Amen. (BCP, p. 228)
Epistle - Romans 6:17-23
Thanks be to God, that you who were once slaves of sin have become obedient from the heart to the standard of teaching to which you were committed, and, having been set free from sin, have become slaves of righteousness. I am speaking in human terms, because of your natural limitations. For just as you once presented your members as slaves to impurity and to lawlessness leading to more lawlessness, so now present your members as slaves to righteousness leading to sanctification.
For when you were slaves of sin, you were free in regard to righteousness. But what fruit were you getting at that time from the things of which you are now ashamed? For the end of those things is death. But now that you have been set free from sin and have become slaves of God, the fruit you get leads to sanctification and its end, eternal life. For the wages of sin is death, but the free gift of God is eternal life in Christ Jesus our Lord. (ESV)
Gradual - Psalm
34:11-15
Come, ye children, and hearken unto me; / I will teach you the fear of the Lord.
What man is he that desireth to live, / and would fain see good days?
Keep thy tongue from evil, / and thy lips, that they speak no guile.
Depart from evil, and do good; / seek peace, and pursue it. Alleluia, Alleluia.
The eyes of the Lord are over the righteous, / and his ears are open unto their prayers. Alleluia. (BCP)
Gospel - Mark 8:1-9
In those days, when again a great crowd had gathered, and they had nothing to eat, [Jesus] called his disciples to him and said to them, "I have compassion on the crowd, because they have been with me now three days and have nothing to eat. And if I send them away hungry to their homes, they will faint on the way. And some of them have come from far away." And his disciples answered him, "How can one feed these people with bread here in this desolate place?" And he asked them, "How many loaves do you have?" They said, "Seven." And he directed the crowd to sit down on the ground. And he took the seven loaves, and having given thanks, he broke them and gave them to his disciples to set before the people; and they set them before the crowd. And they had a few small fish. And having blessed them, he said that these also should be set before them. And they ate and were satisfied. And they took up the broken pieces left over, seven baskets full. And there were about four thousand people. And he sent them away. (ESV)
Resources:
Morning & Evening Prayer Readings:
Artwork: Gustave Doré, Christ Feeding the Multitude, c. 1866, Engraving.
Scripture quotations are from the ESV® Bible (The Holy Bible, English Standard Version®), copyright © 2001 by Crossway, a publishing ministry of Good News Publishers. Used by permission. All rights reserved.
Available Files to Download
To download, right-click the file and select "Save link as".