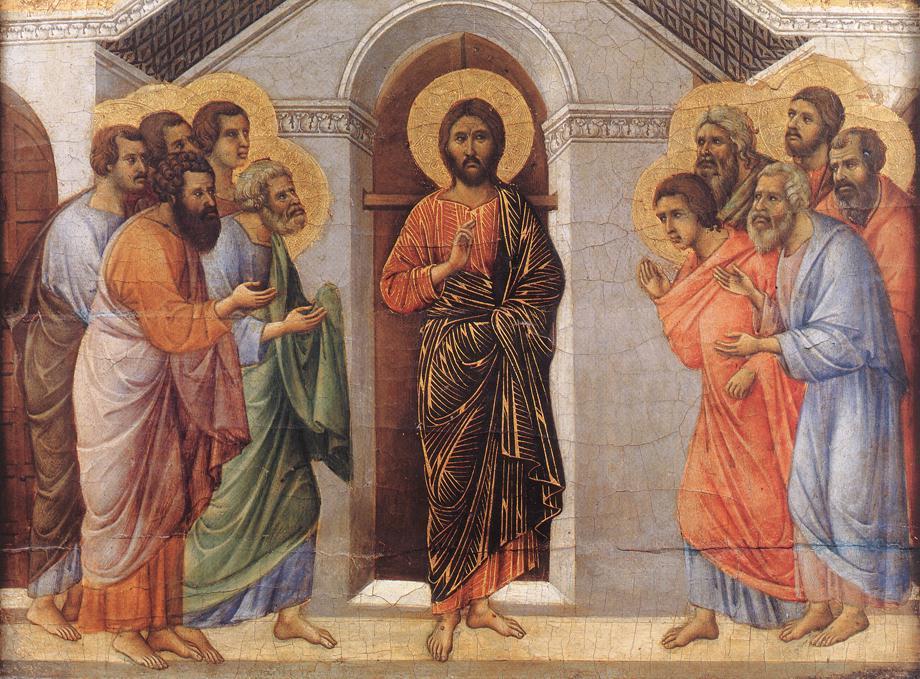 The collect and readings, as well as the Bishop's sermon, video and other resources, for the Sunday after Easter, 8 April A.D. 2018.
The Collect
Almighty Father, who hast given thine only Son to die for our sins, and to rise again for our justification: Grant us so to put away the leaven of malice and wickedness, that we may alway serve thee in pureness of living and truth; through the merits of the same thy Son Jesus Christ our Lord. Amen.
1 John 5:4-12
For everyone who has been born of God overcomes the world. And this is the victory that has overcome the world—our faith. Who is it that overcomes the world except the one who believes that Jesus is the Son of God?
This is he who came by water and blood—Jesus Christ; not by the water only but by the water and the blood. And the Spirit is the one who testifies, because the Spirit is the truth. For there are three that testify: the Spirit and the water and the blood; and these three agree. If we receive the testimony of men, the testimony of God is greater, for this is the testimony of God that he has borne concerning his Son. Whoever believes in the Son of God has the testimony in himself. Whoever does not believe God has made him a liar, because he has not believed in the testimony that God has borne concerning his Son. And this is the testimony, that God gave us eternal life, and this life is in his Son. Whoever has the Son has life; whoever does not have the Son of God does not have life. (ESV)
John 20:19-23
On the evening of that day, the first day of the week, the doors being locked where the disciples were for fear of the Jews, Jesus came and stood among them and said to them, "Peace be with you." When he had said this, he showed them his hands and his side. Then the disciples were glad when they saw the Lord. Jesus said to them again, "Peace be with you. As the Father has sent me, even so I am sending you." And when he had said this, he breathed on them and said to them, "Receive the Holy Spirit. If you forgive the sins of any, they are forgiven them; if you withhold forgiveness from any, it is withheld." (ESV)
Resources:
Daily Office Readings:
Artwork: Duccio di Buoninsegna, Christ's appearance behind locked doors (from Back Crowning of The Maestà), 1308-11. Tempera on wood, Museo dell'Opera Metropolitana del Duomo, Siena.
Scripture quotations are from the ESV® Bible (The Holy Bible, English Standard Version®), copyright © 2001 by Crossway, a publishing ministry of Good News Publishers. Used by permission. All rights reserved.