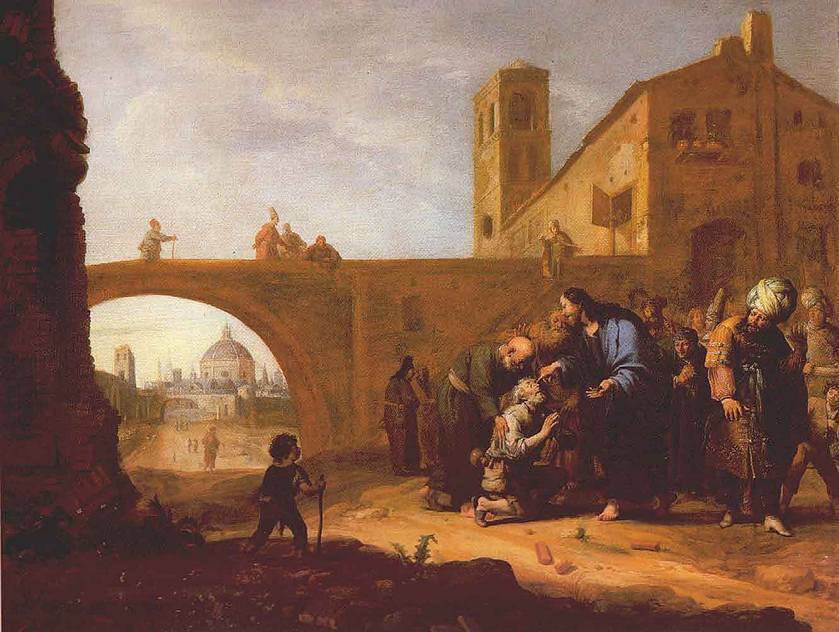 The collect and readings - as well as the Bishop's sermon, video and other resources - for the Sunday Before Lent, also called Quinquagesima, meaning 50 days before Easter (11 February A.D. 2018).
The Collect
O LORD, who hast taught us that all our doings without charity are nothing worth: Send thy Holy Spirit, and pour into our hearts that most excellent gift of charity, the very bond of peace and of all virtues, without which whosoever liveth is counted dead before thee. Grant this for thine only Son Jesus Christ's sake. Amen.
1 Corinthians 13
If I speak in the tongues of men and of angels, but have not love, I am a noisy gong or a clanging cymbal. And if I have prophetic powers, and understand all mysteries and all knowledge, and if I have all faith, so as to remove mountains, but have not love, I am nothing. If I give away all I have, and if I deliver up my body to be burned, but have not love, I gain nothing.
Love is patient and kind; love does not envy or boast; it is not arrogant or rude. It does not insist on its own way; it is not irritable or resentful; it does not rejoice at wrongdoing, but rejoices with the truth. Love bears all things, believes all things, hopes all things, endures all things.
Love never ends. As for prophecies, they will pass away; as for tongues, they will cease; as for knowledge, it will pass away. For we know in part and we prophesy in part, but when the perfect comes, the partial will pass away. When I was a child, I spoke like a child, I thought like a child, I reasoned like a child. When I became a man, I gave up childish ways. For now we see in a mirror dimly, but then face to face. Now I know in part; then I shall know fully, even as I have been fully known.
So now faith, hope, and love abide, these three; but the greatest of these is love. (ESV)
Psalm 31:22-26
O how plentiful is thy goodness, which thou hast laid up for them that fear thee, / and that thou hast wrought for them that put their trust in thee, even before the sons of men!
Thou hidest them in the secret place of thine own presence from the plottings of men: / thou keepest them secretly in thy tabernacle from the strife of tongues.
Thanks be to the LORD; / for he hath showed me his marvellous loving-kindness in a strong city.
But as for me, I said in my haste, / 'I am cast out of the sight of thine eyes.'
Nevertheless, thou heardest the voice of my prayer, / when I cried unto thee.
Luke 18:31–43
And taking the twelve, he said to them, "See, we are going up to Jerusalem, and everything that is written about the Son of Man by the prophets will be accomplished. For he will be delivered over to the Gentiles and will be mocked and shamefully treated and spit upon. And after flogging him, they will kill him, and on the third day he will rise." But they understood none of these things. This saying was hidden from them, and they did not grasp what was said.
As he drew near to Jericho, a blind man was sitting by the roadside begging. And hearing a crowd going by, he inquired what this meant. They told him, "Jesus of Nazareth is passing by." And he cried out, "Jesus, Son of David, have mercy on me!" And those who were in front rebuked him, telling him to be silent. But he cried out all the more, "Son of David, have mercy on me!" And Jesus stopped and commanded him to be brought to him. And when he came near, he asked him, "What do you want me to do for you?" He said, "Lord, let me recover my sight." And Jesus said to him, "Recover your sight; your faith has made you well." And immediately he recovered his sight and followed him, glorifying God. And all the people, when they saw it, gave praise to God. (ESV)
Resources:
Bishop's sermon for Quinquagesima (see below)
Morning Prayer & Evening Prayer Readings
Artwork: Bartholmeus Breenbergh, Christ Heals the Blind Man, 1635. Oil on canvas, Liechtenstein State Art Collection, Vaduz.
Scripture quotations are from the ESV® Bible (The Holy Bible, English Standard Version®), copyright © 2001 by Crossway, a publishing ministry of Good News Publishers. Used by permission. All rights reserved.