The Transfiguration of Our Lord
The Transfiguration of Our Lord
August 3, 2017

Chris Dow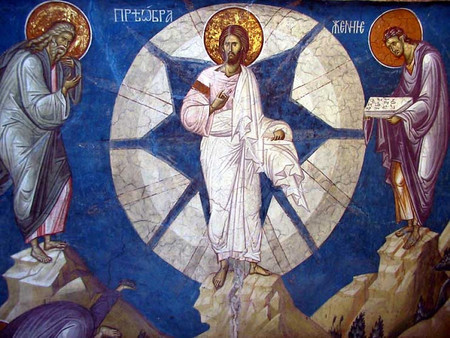 The collects and readings - as well as the Bishop's sermon, video and other resources - for the Transfiguration of Our Lord (6 August A.D. 2017).
The Collect for the Transfiguration
O GOD, who on the holy mount didst reveal to chosen witnesses thy well-beloved Son wonderfully transfigured: Mercifully grant unto us such a vision of his divine majesty, that we, being purified and strengthened by thy grace, may he transformed into his likeness from glory to glory; through the same thy Son Jesus Christ our Lord. Amen. (BCP, p. 289)
The Collect for the Eighth Sunday after Trinity
O GOD, whose never-failing providence ordereth all things both in heaven and earth: We humbly beseech thee to put away from us all hurtful things, and to give us those things which be profitable for us; through Jesus Christ our Lord. Amen. (BCP, p. 229)

Epistle - 2 Peter 1:16-21
For we did not follow cleverly devised myths when we made known to you the power and coming of our Lord Jesus Christ, but we were eyewitnesses of his majesty. For when he received honor and glory from God the Father, and the voice was borne to him by the Majestic Glory, "This is my beloved Son, with whom I am well pleased," we ourselves heard this very voice borne from heaven, for we were with him on the holy mountain. And we have the prophetic word more fully confirmed, to which you will do well to pay attention as to a lamp shining in a dark place, until the day dawns and the morning star rises in your hearts, knowing this first of all, that no prophecy of Scripture comes from someone's own interpretation. For no prophecy was ever produced by the will of man, but men spoke from God as they were carried along by the Holy Spirit. (ESV)
Gradual Psalm 84:8-13
O Lord God of hosts, hear my prayer : hearken, O God of Jacob.
Behold, O God our defender : and look upon the face of thine Anointed.
For one day in thy courts : is better than a thousand.
I had rather be a door-keeper in the house of my God : than to dwell in the tents of ungodliness.
For the Lord God is a light and defence : the Lord will give grace and worship, and no good thing shall he withhold from them that live a godly life. Alleluia! Alleluia!
O Lord God of hosts : blessed is the man that putteth his trust in thee. Alleluia!
Gospel - Matthew 17:1-9
And after six days Jesus took with him Peter and James, and John his brother, and led them up a high mountain by themselves. And he was transfigured before them, and his face shone like the sun, and his clothes became white as light. And behold, there appeared to them Moses and Elijah, talking with him. And Peter said to Jesus, "Lord, it is good that we are here. If you wish, I will make three tents here, one for you and one for Moses and one for Elijah." He was still speaking when, behold, a bright cloud overshadowed them, and a voice from the cloud said, "This is my beloved Son, with whom I am well pleased; listen to him." When the disciples heard this, they fell on their faces and were terrified. But Jesus came and touched them, saying, "Rise, and have no fear." And when they lifted up their eyes, they saw no one but Jesus only.
And as they were coming down the mountain, Jesus commanded them, "Tell no one the vision, until the Son of Man is raised from the dead." (ESV)
Resources:
Morning & Evening Prayer Readings
Artwork: The Holy Transfiguration, Visoki Dečani monastery, Serbia. Fresco.
Scripture quotations are from the ESV® Bible (The Holy Bible, English Standard Version®), copyright © 2001 by Crossway, a publishing ministry of Good News Publishers. Used by permission. All rights reserved.
Available Files to Download
To download, right-click the file and select "Save link as".