The Twelfth Sunday after Trinity
The Twelfth Sunday after Trinity
August 31, 2017

Chris Dow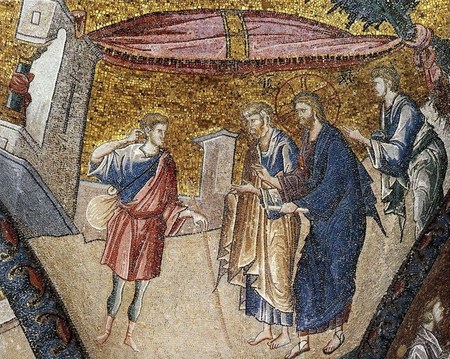 The collect and readings - as well as the Bishop's sermon, video and other resources - for the Twelfth Sunday after Trinity (3 September A.D. 2017).
The Collect
Almighty and everlasting God, who art always more ready to hear than we to pray, and art wont to give more than either we desire or deserve: Pour down upon us the abundance of thy mercy; forgiving us those things whereof our conscience is afraid, and giving us those good things which we are not worthy to ask, but through the merits and mediation of Jesus Christ, thy Son, our Lord. Amen. (BCP, p. 236)
Epistle - 2 Corinthians 3:4-9
Such is the confidence that we have through Christ toward God. Not that we are sufficient in ourselves to claim anything as coming from us, but our sufficiency is from God, who has made us sufficient to be ministers of a new covenant, not of the letter but of the Spirit. For the letter kills, but the Spirit gives life.
Now if the ministry of death, carved in letters on stone, came with such glory that the Israelites could not gaze at Moses' face because of its glory, which was being brought to an end, will not the ministry of the Spirit have even more glory? For if there was glory in the ministry of condemnation, the ministry of righteousness must far exceed it in glory. (ESV)
Gradual - Psalm 34:1-5
I will alway give thanks unto the LORD; / his praise shall ever be in my mouth.
My soul shall make her boast in the LORD; / the humble shall hear thereof and be glad.
O praise the LORD with me, / and let us magnify his Name together.
I sought the LORD, and he heard me; / yea, he delivered me out of all my fears. Alleluia! Alleluia!
O look unto him and be lightened; / and your faces shall not be ashamed. Alleluia! (BCP)
Gospel - Mark 7:31-37
Then [Jesus] returned from the region of Tyre and went through Sidon to the Sea of Galilee, in the region of the Decapolis. And they brought to him a man who was deaf and had a speech impediment, and they begged him to lay his hand on him. And taking him aside from the crowd privately, he put his fingers into his ears, and after spitting touched his tongue. And looking up to heaven, he sighed and said to him, "Ephphatha," that is, "Be opened." And his ears were opened, his tongue was released, and he spoke plainly. And Jesus charged them to tell no one. But the more he charged them, the more zealously they proclaimed it. And they were astonished beyond measure, saying, "He has done all things well. He even makes the deaf hear and the mute speak." (ESV)
Resources:
Morning Prayer & Evening Prayer Readings:
Artwork: Christ heals the deaf man, 14th-century mosaic, Kariye Camii, Istanbul (Church of the Holy Saviour, Chora).
Scripture quotations are from the ESV® Bible (The Holy Bible, English Standard Version®), copyright © 2001 by Crossway, a publishing ministry of Good News Publishers. Used by permission. All rights reserved.
Available Files to Download
To download, right-click the file and select "Save link as".